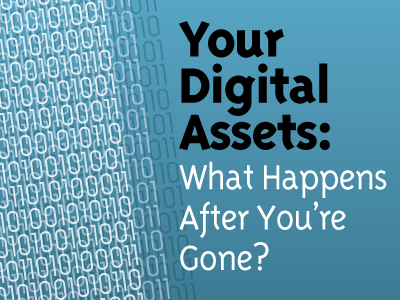 Chances are most of your important financial information is kept digitally, either in various accounts online, on your personal computer or most likely, your phone. Most of us now even keep our family photos and scrapbooks online in our social media accounts or sites like Shutterfly. If you're a small business owner with registered domain names, a thriving e-commerce website or a money-making blog, you should recognize these as important digital assets as well. Have you thought about what will happen to these financial and sentimental digital accounts when you die?
Going Without a Plan is a Bad Idea
Think of your survivors; computers and phones left behind can become electronic lock boxes. If your survivors don't have access to your email accounts, they may not even know that some financial accounts exist if you've signed up for paperless statements. Online billing due dates may come and go, risking account closure or insurance forfeiture. In the real world, wills set out instructions to family and business colleagues in the event of death. But those post-mortem road maps are painfully scarce in the virtual world.
Identify Your Digital Assets
Start with a list of what you use (and where to find it): mobile wallet apps (e.g. Venmo), bookkeeping software, online financial accounts, and personal accounts including email addresses and social networking pages. For all of these accounts, you want to keep a running list of the website address, username, password and any other information needed to log on; a Digital Assets Resource Sheet is a useful tool for this. It's true that security experts warn against writing down such information, but it's a reality that your survivors will need this information if you are incapacitated or deceased. Write it down and keep it in a safe place, that is, not on a computer that requires a password to log on. Put your digital inventory in a sealed envelope or in a safe deposit box.
Select Your Digital Agent
Next, identify the right person to access and review your important online information. This may be your existing agent under power of attorney, your estate executor, or your trustee.
Prepare Your Instructions
A brief set of instructions will be very helpful for your survivors. That has always been the case, but the tools and instructions themselves are quite different today than they were even ten years ago. You may want to ask your digital agent to notify certain members of your online community about your death, such as people that you communicate with regularly via email or social networks. Be clear about whether online accounts with photo scrapbooks and other treasured virtual objects should be closed or preserved to pass on to family members and friends. In the past few years, a deluge of digital afterlife services have started to provide many of these notifications.
You may want to introduce your digital agent to your financial planner; just as you would your Power of Attorney and Executor. Your financial planner may help coordinate their efforts; it can be a valuable resource to have someone with experience in complex situations.
The types of information your survivors will need has not changed, but locating and accessing that information is totally different today, which is why preparing your digital assets plan now is a smart move.
For More Information:
The Digital Beyond List of Online Services
http://www.thedigitalbeyond.com/online-services-list/
Prepare for Digital Afterlife
http://www.yourdigitalafterlife.com
Heidi Clute, CFP® of Clute Wealth Management in South Burlington, VT and Plattsburgh, NY, an independent firm that provides strategic financial and investment planning for individuals and small businesses in the Champlain Valley region of New York and Vermont.
Securities offered through LPL Financial. Member FINRA/SIPC.