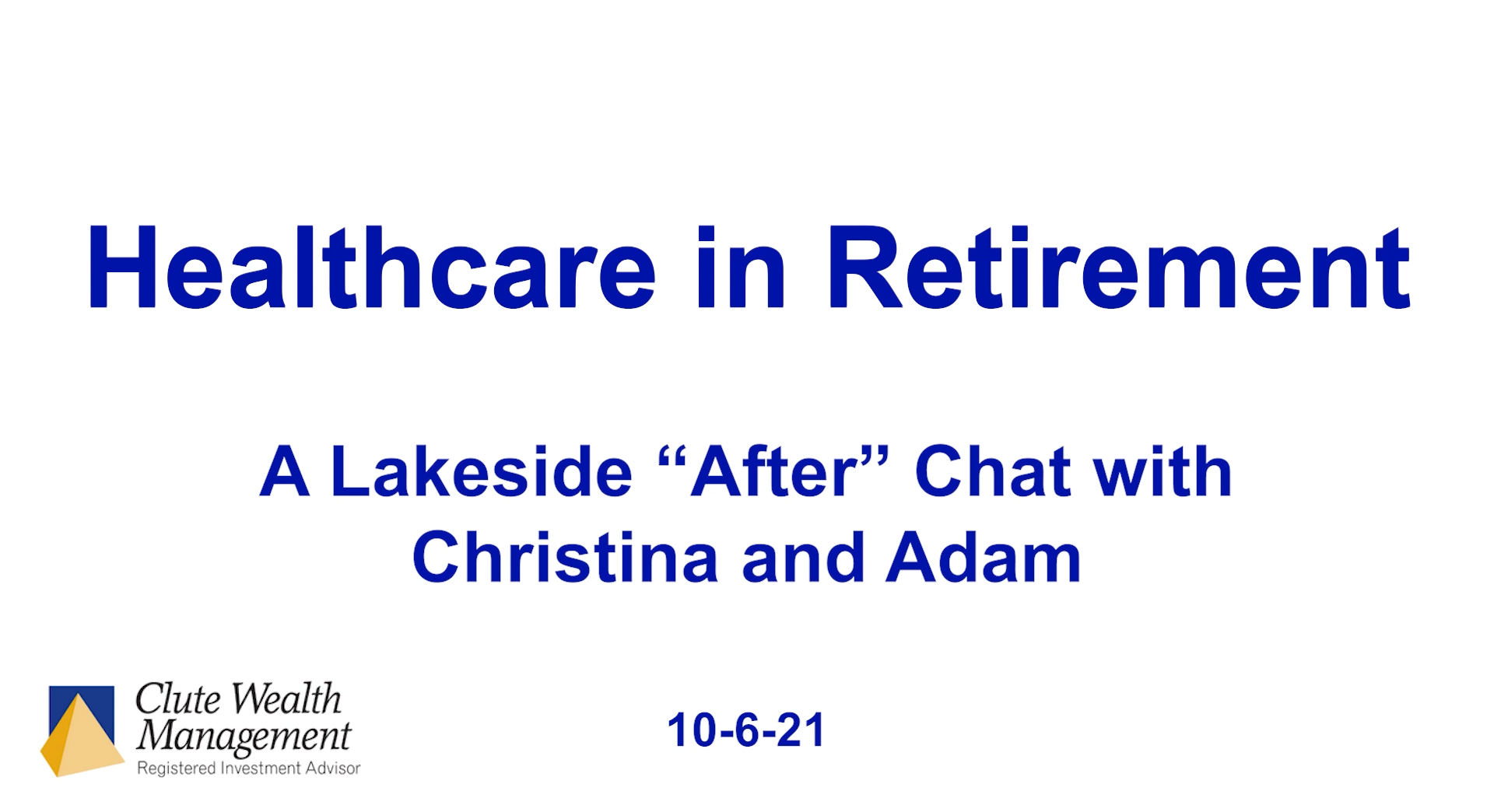 Our October Lakeside Chat featured guest expert Valerie Mariani from Fidelity Institutional. She is a Sr. Regional Investment Consultant, and has been with Fidelity for 17 years. She provided insight on Medicare and healthcare in general during retirement.
While we were unfortunately unable to record the live Lakeside Chat, Christina and Adam got together afterwards to provide a video recap in the first "Lakeside 'After' Chat".
This video references two documents that were provided during the live presentation, click to download them to follow along, and to view them at your leisure:
Planning for Health Care in Retirement - A guide to covering your medical expenses (Fidelity Presentation)
10 Important Takeaways
It's estimated that a 65-year old couple will spend $300k out-of-pocket during retirement on health costs – this includes Medicare Parts B & D; Prescription Drugs & other medical expenses. [Slide 3 of the Fidelity presentation]

This works out to be about $7k/year per person

There are two main ways to get Medicare (Options outlined on pages 5 – 7 of the "Medicare and You" booklet)

Original Medicare with Part A (hospital) & Part B (medical) – any doctor or hospital that takes Medicare

Medicare Advantage (Part C) – need to stay in-network.

There may be penalties if not enrolled when first eligible. (Important dates on pages 8 of the "Medicare and You" booklet)

The Donut Hole in relation to Part D (prescription drugs) was eliminated in 2020. See details on [Slide 10 of the Fidelity presentation]

New cost sharing structure in place for Plan D out-of-pocket costs

Medicare can work with other health insurance coverage. (See details about the rules on page 21 of the "Medicare and You" booklet)

Cannot work with Health Marketplace insurance

No HSA contributions

Medicare premiums can be paid directly if not drawing SS yet. (4 ways you can pay detailed on page 24 of the "Medicare and You" booklet)

You may also have multiple payments: to Medigap in addition to part B and part D

Long-term care is NOT covered by Medicare. (Details on page 55 of the "Medicare and You" booklet)

Some LTC services such as skilled nursing facility stays can be covered by Medicare (with very specific timelines and coinsurance) (See page 28 of the "Medicare and You" booklet for more details)

Dental & vision coverage is NOT included in Medigap (supplemental policies). See details on [Slide 13 of the Fidelity presentation]

The standard Part B cost in 2021 is $148.50 (which is what most people pay), but if modified adjusted gross income is above a certain amount, there is an extra charge added in monthly. Same could be true for Part D premiums. See details on [Slide 8 of the Fidelity presentation]

It's important to compare the Medigap (Supplemental policies) – see Page 76 of the "Medicare and You" booklet. Plans C & F are no longer available if new to Medicare after January 1, 2020. See details on [Slide 14 of the Fidelity presentation]

You should compare costs and coverages (including out-of-pocket) for Medigap plans against Medicare Advantage plans to see what works best for you

Your individual health needs, medications, and lifestyle will all be factors to consider
Our Lakeside Chats were started in Spring 2020 to help us feel more connected. Think casual conversation about a wide range of topics. Imagine an online video version of a regular backyard (or front porch) get-together with friends and neighbors. For each Lakeside Chat, a different guest leads the conversation about their area of expertise, their passionate hobby.
You can see all of our past Lakeside Chat recordings in the "Videos" section of Money and You, or click here.