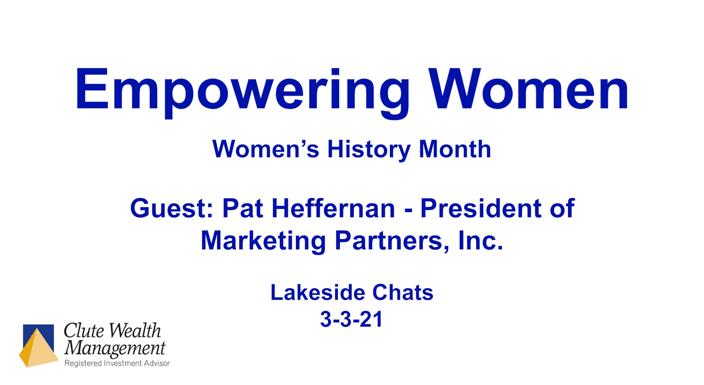 March marks Women's History Month again, but many of us are not celebrating. Stories and images of courageous women of the past are everywhere. These women deserve recognition — they fought hard to advance equal rights and access for the majority of the U.S. population who happen to have been born female. Yet in 2021, it can feel increasingly difficult to talk about celebrating for one month a year when there are limited signs of progress to improve the lives of women and girls.
Join us to explore how internalized social norms, unconscious bias, and stereotype threats combine with the very real social, cultural, and economic barriers in our society to disproportionately hold women back— and small steps we can each take to help empower ourselves, our spouses, sisters, and daughters.
Our guest this week is Pat Heffernan. A change strategist, business thinker, and president of Marketing Partners, Inc., a Burlington, Vermont-based creative agency that helps mission-driven organizations create change through communication. Prior to establishing her own business in 1982, Pat served for nine years as Associate Dean at Vermont Law School. During that time, the school's nationally recognized Environmental Law Center was conceived and established. She holds an MBA and a BA and hopes someday to complete her Ph.D. in communication and social change theory. Pat has spoken extensively on management and policy issues affecting women throughout the U.S. She has taught "Sustainable Business Strategies" at the University of Vermont, served as an expert witness on communication in federal court, and testified on legislation at both the federal and state level. Pat is an active volunteer, currently serving as founder and board member of Women Business Owners Network (WBON), founding president and board member of Vermont Businesses for Social Responsibility (VBSR), and member of the board of the American Sustainable Business Council. Her past service includes the UVM College of Agriculture and Life Sciences, the Governor's Commission on Women, member of the SBA Region I Advisory Council, and advisor to the Vermont Job Gap Study. She has been recognized by the S.B.A. as Vermont's Women in Business Advocate, served as co-chair of the Vermont delegation to the White House Conference on Small Business, and awarded the prestigious Terry Ehrich Award for Excellence in Socially Responsible Business Practices.
Our Lakeside Chats were started in Spring 2020 to help us feel more connected. Think casual conversation about a wide range of topics. Imagine an online video version of a regular backyard (or front porch) get-together with friends and neighbors. For each Lakeside Chat, a different guest leads the conversation about their area of expertise, their passionate hobby.
You can see all of our past Lakeside Chat recordings in the "Videos" section of Money and You, or click here.