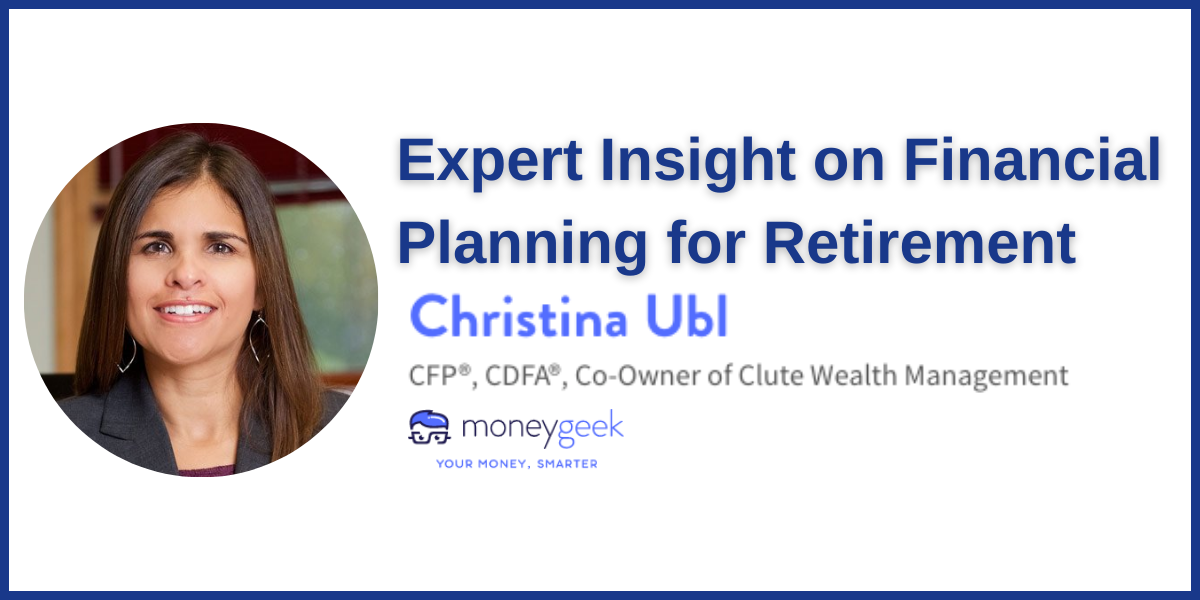 Christina provided expert insight on financial planning for retirement in the MoneyGeek article "Older Adults' Guide to Income Streams and Money Management in Retirement". Included are tips on how to earn income in retirement, calculating life expectancy when planning for retirement, and a list of resources for income streams for aging adults.
You can read Christina's excerpt below and you can read the whole article here on the MoneyGeek website.
Christina's excerpt:
If an older adult was not able to save heavily before retirement, what's the first tip you recommend for earning income in retirement?
The first tip for earning income in retirement is to keep working, contributing and earning — consider a full or part-time job. Working after retirement works for many people because it's their choice, and they can pursue a passion or purpose that may not have been an option in their earlier years.
Teaching and tutoring, for example, offer the social interaction and mental stimulation some miss after they leave the workplace. Working part-time or turning a hobby into an income-producing small business can also be a great source of income to cover discretionary costs (such as entertainment, travel and gifts), but remember to watch the income limits that could trigger:
Taxes on Social Security benefits
Increased Medicare premiums
Reduce Social Security benefits if you're drawing Social Security before full retirement age.
Another way to have more money is to spend less. There are fixed costs for food, clothing, shelter, etc., but there are often other areas where spending can fluctuate depending on how much income there is.
How do you recommend an older adult calculates their life expectancy when financially planning for retirement?
Calculating your life expectancy is difficult because, although it is based on calculations and statistical modeling, no one really knows. We spend a lot of time talking with our clients about lifestyle variables (physically active vs. passive, social interactions, travel, etc.), health and family history. Your longevity directly affects your financial plan because the longer you are expected to live, the more money you will need.
Longevity increases the chances of needing some living assistance — either at home, in a continuing care retirement community or at a facility — which can increase costs exponentially (and lead to a depletion of assets). That means that financially, it's preferable to calculate a long life expectancy to determine a viable retirement financial plan proactively.
Resources for Income Streams for Aging Adults
There are a variety of resources available for aging adults to begin preparing for retirement as early as possible. No matter what stage of life you're in, the following resources are a good place to further your knowledge on potential income streams and how to get started today.