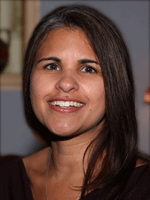 Plattsburgh, NY -- Heidi Clute, founder of Clue Wealth Management said, "Since she joined us in 2000, Christina has proven herself again and again as a smart, capable and important member of our team. She continues to deepen her knowledge and hone her skills while sharing our firm's mission to help women in transition. I'm proud to have her as a partner."
Christina Ubl graduated from State University of New York at Plattsburgh with a BS in business management and accounting. In 2001, Christina became a licensed Insurance Broker, and continued to grow her credentials by becoming a Stock Broker and an LPL Registered Securities Principal. In 2010, Christina earned her CERTIFIED FINANCIAL PLANNER™ certification and in 2013, earned her designation as a Certified Divorce Financial Analyst®. Christina holds securities registrations in 21 states.
Christina says, "I'm very excited to start 2015 off as a partner at Clute Wealth Management. I appreciate the opportunity to build my credentials and knowledge so I can become an even more valuable member of the team supporting our clients. I look forward to the years ahead of working and laughing with Heidi and the CWM team."
When not at the office, Christina is likely to be coaching her daughters' soccer team or volunteering at their school. Christina and her husband have two daughters. They enjoy relaxed travel with extended family.
Founded in 1984 by Heidi Clute, CFP®, Clute Wealth Management is an independent firm and Registered Investment Advisor (RIA) that provides strategic financial and investment planning for individuals and small businesses in the Champlain Valley region of New York and Vermont. As a Registered Investment Advisor, Clute Wealth Management holds itself to a fiduciary standard, has additional disclosure requirements and can provide discretionary or nondiscretionary services.
Securities are offered through LPL Financial, Member FINRA/SIPC. LPL Financial is an independent broker-dealer, and does not sell or market proprietary products or securities.
###