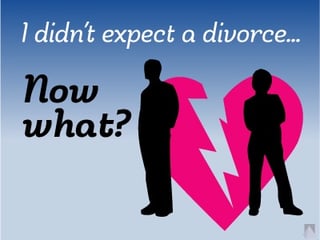 At the wedding, who thinks those two little words "I do" might suddenly lead to the four words "I want a divorce."? No one expects to get divorced. But now that you've heard (or uttered) those four words, what do you do?
Divorce happens
Take a deep breath and know that you are not alone. Divorce happens and it happens to a lot of people. For most women, this can be a difficult time. According to a University of Michigan study, each year 115,000 women lose their private health insurance due to a divorce. Divorce has a significant impact on women's long-term financial security and "generally results in a significant financial setback for all those involved."
But knowing you're not alone doesn't make divorce less complicated or stressful. Mixing emotions and finances is not a good idea. And when there are children or step-children, scattered assets, or an inheritance involved, a complicated situation becomes even more so with the addition of custody, college planning, or future estate planning. I became a CDFA® to help minimize the financial impact of divorce for those seeking my financial counsel, for the first time, during a difficult transition in their lives.
Four initial steps to take for an unexpected divorce
Here are four initial steps you can take to help ease the process and to set yourself up for a less contentious experience and a solid financial foundation.
Speak with an attorney
Before you do anything else, find a reputable and experienced attorney who specializes in divorce. They will be the one who can answer your first questions and counsel you on your legal options. Each should know your rights. Your attorney knows the law and can help make an uncomfortable process less so by helping you understand the legal steps you need to take and in what order each step needs to be taken. They can also put together a child custody arrangement that works for all parties involved.
Know what you have for assets
Gather five years of tax returns, bank statements, and investment statements. This will allow your lawyer and financial advisor see exactly where you and your partner stand financially and how to divide assets. It is easier to split assets equitably when you start with a complete picture.
You may want some help to be sure no assets are overlooked. If you shared a financial advisor as a couple, you will need to decide whether or not you feel comfortable continuing with your existing advisor based on your relationship with the advisor, her/his professional role and fiduciary responsibilities, and whether or not you and your spouse are able to work together at all now.
How much do you need to live on?
Transitioning from one household to two households will take time, and cost money. You need to know how much it will cost to live in your area separate from your soon to be former spouse. If you are in a situation where you are not currently working and will need to restart your career after the divorce, look into current employment listings. Research your local rental market. You may need to update your career skills or to locate a new place to live during this time.
Find your community
During big transitions, having a support system can be vitally important. Do you have a close friend or family member that you can talk to? If not, find a local group that focuses on divorce and transition. Sharing your experiences and hearing about others may be just the support you need.
There will always be the "BD" (before divorce) you and the "AD" (after divorce) you in your life. But to come out well on the other side, you need to have a sound financial plan for your future. In my role as a CERTIFIED FINANCIAL PLANNER™ or as a Certified Divorce Financial Analyst®, I speak with many women and men who are working through a marital and financial breakup. How these initial four steps are tackled is a good indicator of how the entire divorce process will go.
This is clearly a turning point in your life. The important thing to remember during this time of transition is not to confuse the state of your marriage, or your financial net worth, with your own sense of self-worth.
RESOURCES
American Bar Association (referrals)
Divorce and Women's Risk of Health Insurance Loss http://hsb.sagepub.com/content/early/2012/11/09/0022146512465758.abstract
Divorce is Costly for Women
https://today.uconn.edu/2011/09/divorce-is-costly-for-women/
The average cost of getting divorced is $15,000 in the US
https://www.businessinsider.com/average-cost-divorce-getting-divorced-us-2019-7
Christina Ubl, CFP® of Clute Wealth Management in South Burlington, VT and Plattsburgh, NY, an independent firm and registered investment advisor that provides strategic financial and investment planning for individuals and small businesses in the Champlain Valley region of New York and Vermont. Clute Wealth Management and LPL are separate entities. Securities offered through LPL Financial. Member FINRA/SIPC. The opinions voiced in this material are for general information only and not intended to provide specific advice or recommendations.