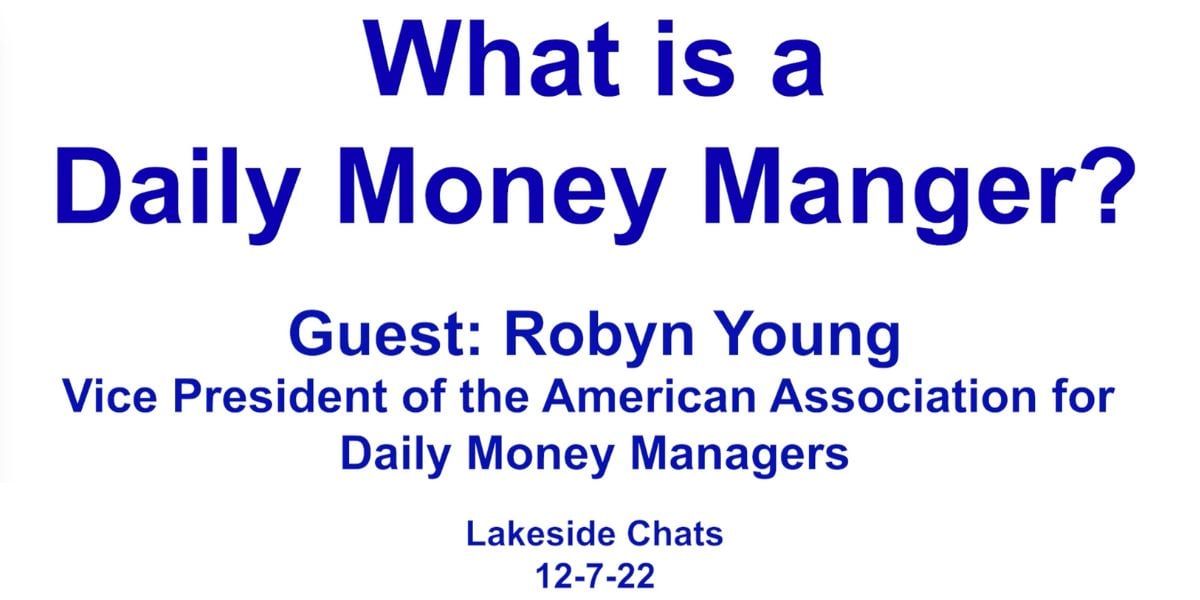 This month we were joined by Robyn Young, Certified Daily Money Manager®, a professional who collaborates to help with bill paying and more. Robyn is the founder and owner of Money Care, LLC. She is also currently Vice President of the American Association of Daily Money Managers (AADMM) and is a member of the Vermont Elder Resource Group.
Robyn enjoys helping individuals manage everyday personal financial challenges. She has a natural talent for financial organization and management, and prides herself on her integrity and work ethic. In 2009 she achieved the Certified Daily Money Manager® designation with the AADMM, becoming the first professional in Vermont to receive this certification. To be a member of AADMM requires a background check and adherence to the code of ethics and standards of practice.
According to AADMM, "Daily Money Managers (DMMs) represent individuals and small businesses in the field of daily money management. Daily Money Managers deliver essential personal financial services to seniors and older adults, people with disabilities, busy professionals, high net worth individuals, and others." Please join us to learn how DMM's can help you, loved ones that you may be caring for, and/or your business.
Our Lakeside Chats were started in Spring 2020 to help us feel more connected. Think casual conversation about a wide range of topics. Imagine an online video version of a regular backyard (or front porch) get-together with friends and neighbors. For each Lakeside Chat, a different guest leads the conversation about their area of expertise, their passionate hobby.
You can see all of our past Lakeside Chat recordings in the "Videos" section of Money and You, or click here.
Robyn Young and AADMM are not affiliated with or endorsed by LPL Financial or Clute Wealth Management.