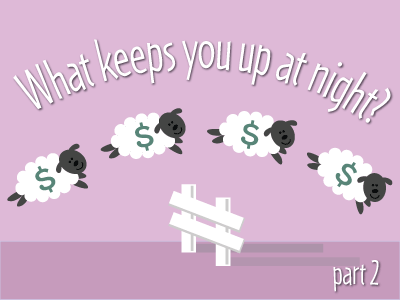 Know that you are not alone if you toss and turn as you try to fall asleep. In 'Part 1', we focused on the financial concerns of a married couple with young children, but noted that the Gallup-Healthways Well-Being Index shows 61 percent of Americans worry about how to manage their economic life to reduce stress and increase security. That's a lot of worrying going on!
Your worries tend to change over the years based on your stage of life, and yet one question I hear regularly revolves around the financial impact of a change in marital status. The average life expectancy in the U.S. today is around 78 years, according to the National Center for Health Statistics, so that means people are living longer, healthier lives and rediscovering love. A new relationship can lead to questions:
What if I get remarried?
What if I'm living with someone in a long-term relationship but we're not married?
I'm in a lesbian, gay, bisexual, or transgender (LGBTQ) relationship, what's different for us financially?
Here are some things to think about now.
Marriage
Marriage at any age has financial implications. But these implications become significantly more complicated when one or both of you are contemplating a second or third marriage with adult children, assets, a house, retirement plans and perhaps failing health.
Each of you need to understand the financial and legal implications that marriage can have on estate planning, Social Security benefits, retirement plans and liability for each other's long-term care costs.
Estate Planning
In most states spouses are entitled to a share of your estate, even if the two of you decide not to include each other in your wills. To ensure your heirs receive their inheritance, you may want to consider a prenuptial agreement or trust to outline your wishes. If you're in a long-term relationship, estate planning is critical for both of you to protect each other.
Social Security
Many divorced or widowed older adults receive Social Security from their former spouses, and remarriage can affect these benefits. If you are divorced after at least 10 years of marriage, you can collect benefits based on your former spouse's Social Security record if you are at least age 62 and if they are already receiving benefits or are entitled to. If you remarry, you generally cannot collect benefits on your former spouse's record unless your later marriage ends (whether by death, divorce, or annulment). However, if you are a widow, widower or divorced spouse who remarries after age 60, you are entitled to benefits based on your prior deceased or divorced spouse's Social Security earnings record.
Spousal Support
If you are receiving financial support from a divorced spouse, it will likely end once you remarry. Depending on the laws in your state and your divorce settlement, support may end even if you simply live with someone else. And in the last few years, there has been a shift away from lifetime support regardless of your living situation, making it critical to determine how you can best support yourself should you need to.
Retirement Plans and Survivor Annuities
This is a complicated issue, but the basic principle is there are rules that give specific rights to a spouse of the owner of a qualified retirement plan such as a 401(k) or a pension, unless that right has been waived. In the case of either a lifetime or death distribution, the plan participant's spouse must receive the participant's plan benefits. Unless there is an election by the participant and the consent of a participant's spouse, a pension plan must provide a joint and survivor annuity with a lifetime payment option.
Widows and widowers of public employees, such as civil service employees and federal employees, often receive survivor annuities. Many of these annuities end if the surviving spouse remarries. Before getting married, check your annuity policy to see what the effect will be.
LGBTQ Relationships
After the 2015 Obergefell Supreme Court decision on same-sex marriage and the 2020 Supreme Court decision that the Civil Rights Act of 1964 applies to discrimination based on sexual orientation and gender identity, there are still questions about changing state laws and resulting financial and legal implications for Lesbian, Gay, Bisexual and Transgender (LGBTQ) couples. If your financial and estate planning documents were drafted prior to 2015, you may have heard they need to be reviewed for language (wife/husband/spouse) consistent with current laws. There are still many states that have not equalized benefits or put in place anti-discrimination laws that affect health care, housing, and access to credit. There are also different rules across America about parental rights, adoption, and other family financial planning options. This is an evolving area where consulting your financial advisor and your attorney is advisable, especially for relationships involving assets in multiple states.
Financial Confidence Comes From Planning Ahead
Knowing you have thought through the financial implications of your relationship, and taken the legal and financial steps that reflect your wishes—these are the basics that may increase your financial confidence. Putting a strategy in place now for whatever might keep you up at night is well worth the effort.
Of course every person's situation is different and your financial plans need to reflect your specific situation. To help you gain financial confidence, I'd suggest an annual review of the "What Keeps You Up at Night" checklist in our 'Basic Financial Toolkit' with your spouse or partner, and your financial advisor.
Heidi Clute, CFP® is co-owner of Clute Wealth Management in South Burlington, VT and Plattsburgh, NY, an independent firm and registered investment advisor that provides strategic financial and investment planning for individuals and small businesses in the Champlain Valley region of New York and Vermont. Clute Wealth Management and LPL are separate entities. The opinions voiced in this material are for general information only and not intended to provide specific advice or recommendations.
Securities and advisory services offered through LPL Financial, a registered investment advisor. Member FINRA/SIPC.
RESOURCES/LINKS
Gallup-Healthways Well-Being Index - U.S. Wellbeing Declines Halted in 2019 (9/25/19)
https://news.gallup.com/poll/266978/wellbeing-declines-halted-2019.aspx
What Keeps You Up at Night checklist
http://www.clutewealthmanagement.com/resources/financial-toolkit/