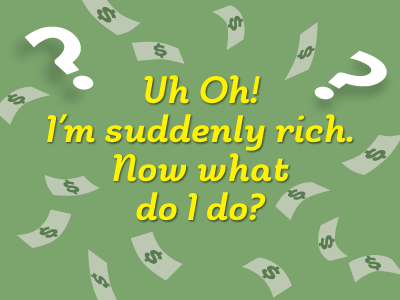 Surprisingly, dealing with sudden wealth can become a nightmare. Learn the five steps you can take immediately to successfully manage the financial and emotional crises that can come with sudden wealth.
People come into financial windfalls in a number of ways:
Lottery
Sale of Business
Stock options
Inheritance
Any of these events can be quite overwhelming. Suddenly you have all this money, now what do you do? This is common with the loss of a loved family member resulting in a substantial inheritance. When bad news comes mixed with money, it can create a toxic brew, spawning complications and mistakes that can last a lifetime. When I see that "eyes frozen in the headlights" look coming into my office, I know the key need right now is to take time, draw in some deep breaths and follow five steps to help successfully manage a financial and emotional crisis. Here's the first counsel I offer.
1. Stop. Do nothing fast
You are in a high danger zone for serious errors. Many people will want to give you advice, some well-intended, some self-serving. Choose a financial advisor in the same way you choose other critically important professionals: by qualifications, ability, and by looking for a good match with your values and priorities. Financial advisors come today in a variety of descriptions and levels of qualifications. Learn how to judge the qualifications of financial advisors . It's a good idea to interview a few advisors. Ask them how they would approach working with you. Ask for references and check them. Listen to your intuition and find someone that you feel listens to you and understands your needs and goals.
2. Give yourself permission to succeed with money
If managing wealth is a task new to you, you might feel intimidated or even guilty for having money. I've had people tell me they think of inheritance or insurance money as "death money." You can put emotional barriers in your way so that you can't make wise decisions. One woman I worked with refused to sell her home that she and her husband had shared before he died even though it was too large and too costly for her to live in "I can't sell it. All his things are in there," she said.
3. Avoid financial pitfalls
You are in a high danger zone for serious mistakes. Don't hesitate to ask questions or to admit you don't understand everything. Financial documents can be intimidating. They can create an anxiety that's a lot like math anxiety. Few people without specialized training can understand all the documents you will see when considering all of your investment options. Don't sign any papers you don't understand. Make sure the financial advisor you choose is willing to take time to answer your questions. And pay special attention to the tax implications of your decisions. A survey by Eaton Vance Corp reported in the Journal of Financial Planning showed that investors generally lack knowledge on tax issues; this can be extremely costly.
4. Take inventory
Before you can set goals and make long-term decisions, you need to gather your information. What do you own? What is it worth? What tax implications are there? How much debt? Count real estate, cash, bank accounts, stocks and bonds, retirement funds, insurance proceeds, automobiles, art, antiques, and collections. This can take months. I urge people to keep their property liquid during this time. Give yourself time to set your goals and make decisions.
5. Set your financial goals.
What does wealth mean to you? In "The Financial Psychology of 4 Life Changing Events", published in the Journal of Financial Planning, William L. Anthes, PhD and Shelly A. Lee wrote "Money not only is a medium of exchange, it is also a substitute for love, a symbol of power, a benchmark of success, a tool for doing good deeds, a source of great anxiety, a scapegoat, a flashpoint in a marriage, and an emotional force of its own."
A well-managed financial plan can help provide freedom from anxiety; it helps to calm fears. In the 2020 Stress in America survey conducted by Harris poll on behalf of the American Psychological Association nearly 2 in 3 adults (64%) say that money is a significant source of stress in their life.
Even people with significant wealth worry that they will lose it. They need to talk with their advisor about their need for security and their risk tolerance. A top money goal for both women and men cited in the survey was to eliminate debt. Even the ability to give money away is an important part of many financial plans. There are ways to make gifts that are wise as well as generous and should be considered when planning. One client I worked with had her greatest pleasure from her ability to significantly help her church.
Sudden wealth can bring sudden stress for couples. Thankfully, views about gender and financial power are changing and couples today are more in agreement on shared power and responsibility. Family money management is no longer assumed to be the domain of men. Whether the family wealth is actively managed by one spouse or both, the family will be stronger with a financial plan that reflects its needs and aspirations for the future.
Good advice and solid planning can take the anxiety out of managing sudden wealth for you so you can enjoy the benefits!
Resources
2020 Stress in America Survey, American Psychological Association (APA) https://www.apa.org/news/press/releases/stress/2020/sia-mental-health-crisis.pdf
Heidi Clute, CFP® is co-owner at Clute Wealth Management in South Burlington, VT and Plattsburgh, NY, an independent firm and registered investment advisor that provides strategic financial and investment planning for individuals and small businesses in the Champlain Valley region of New York and Vermont. Clute Wealth Management and LPL are separate entities. Securities offered through LPL Financial. Member FINRA/SIPC. The opinions voiced in this material are for general information only and not intended to provide specific advice or recommendations.