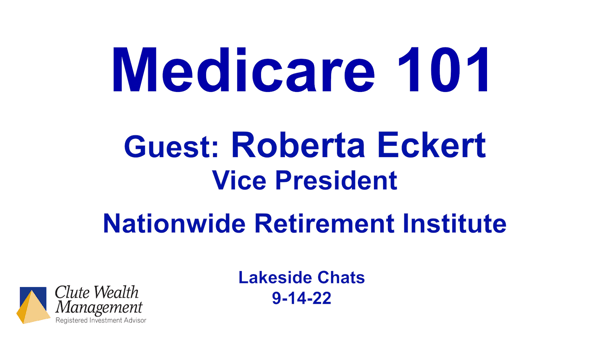 Back by popular demand, folks joined us in September for a Lakeside Chat on the topic of Medicare. We were joined by Roberta Eckert who is the Vice President of the Nationwide Retirement Institute and our guest expert to discuss some important things to know when you're looking at Medicare, including who's eligible, when you can apply, and how much you might expect to pay based on the different plan options.
Roberta is passionate about preparing clients as they navigate the changing world of retirement planning. She is frequently sought out by the media, including Kiplinger's, CNBC and Wealth Advisor for her insight in claiming Social Security, health care costs in retirement, and the financial issues facing women today.
Our Lakeside Chats were started in Spring 2020 to help us feel more connected. Think casual conversation about a wide range of topics. Imagine an online video version of a regular backyard (or front porch) get-together with friends and neighbors. For each Lakeside Chat, a different guest leads the conversation about their area of expertise, their passionate hobby.
You can see all of our past Lakeside Chat recordings in the "Videos" section of Money and You, or click here.