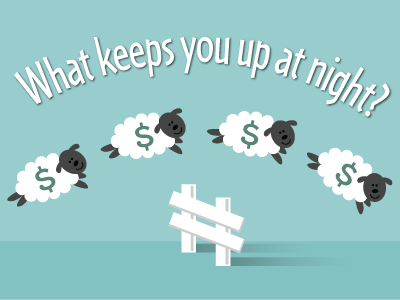 Are you tossing and turning as you try to fall asleep? Is there a lot of mind chatter running through your head about your financial future? For many of us, finances are what keep us up at night (at least prior to the pandemic). According to the Capital One CreditWise survey, 73% of Americans rank their finances as the No. 1 stress in life.
The cause of your worries changes over the years because your financial priorities vary with your stage of life. Recent college grads are likely to stress over student loans, newlyweds over how to manage their joint finances, young families over finding and affording quality child care, parents of teens over extra cars and looming college costs, and so forth. But though the specific financial worries may change, a nationwide poll on causes of stress conducted by NPR, the Robert Wood Johnson Foundation and the Harvard School of Public Health, found financial stress affected 53 percent of Americans overall, with peaks at 59 percent for those age 30-39 and 57 percent for those age 50-64.
Protecting those who rely on you most
One constant across the years is protecting those you care about. None of us like to think about how the lives of our loved ones would change if the unthinkable happened, or how they'd cope with the emotional and financial loss.
A few years ago, my husband Jon and I were chatting about our children and their respective futures; I asked him what he would worry about if something were to happen to me. Since I make my living as a financial advisor and take the lead on our planning strategies, he replied that he didn't really worry about it at all. (I joked that I hope he'd at least miss me!) His answer didn't surprise me, because he's confident that I've planned for the worst.
But later that day, he told me if the proverbial "getting hit by a bus" scenario were to occur, he'd worry more than he initially thought – not about the everyday finances, but about our kids' education planning. He wants to make sure our kids are taken care of and have a solid start in the future.
Will the money last?
Like most young(ish) families, we wonder if there will be enough money if something unexpected happens. We're parents of active teenagers, we both work full time outside of the home, and we try to make the best decisions to protect our family's financial future. We think about how to make it all work. If something were to happen to either one of us, we have our plans in order and we review and update them each year. A couple of years ago there was a government shutdown, and we got to see our planning in a live scenario. For 35 days we were a one-income household and we were grateful to have a savings in place that let us continue to maintain our lifestyle and pay our bills. Unfortunately, many families experienced this in 2020 - or worse - they suddenly had no income once the federal funding ran out.
An often overlooked financial risk
Each year (generally around Mother's Day), reports and studies are published about the value of the unpaid role of "mom", stay-at-home spouse, or caretaker in the household. Replacing one spouse's paycheck is rarely overlooked, but many families couldn't afford to pay for mom's cooking, cleaning, chauffeuring, helping with homework (or possibly teaching now) and taking care of the finances, all of which she does for free. Loss of one parent's income (back to that proverbial bus scenario) combined with the loss of "free" services could shatter a family's day-to-day needs, education savings plans, and overall financial future.
According to an article on salary.com, if you were to put a dollar value on all the things a typical stay-at-home mother does for her family, that household salary in 2019 is $178,201. (If your children are grown, the same risk may apply for the "free" services you are providing regularly for aging parents.)
Financial Confidence comes from planning ahead
Knowing where replacement income will come from, where records are stored and how to access them, who has power of attorney, keeping beneficiaries current—these are the basics that may bring financial confidence. Having back up strategies in place now for whatever is keeping you up at night is well worth the effort.
Of course every person's situation is different and your financial plans need to reflect your specific situation. To help you gain confidence, I'd suggest an annual review of the "What Keeps You Up at Night" checklist in our 'Basic Financial Toolkit' with your spouse or partner, and your financial advisor.
Christina Ubl, CFP® CDFA® is co-owner of Clute Wealth Management in South Burlington, VT and Plattsburgh, NY, an independent firm and registered investment advisor that provides strategic financial and investment planning for individuals and small businesses in the Champlain Valley region of New York and Vermont. Clute Wealth Management and LPL are separate entities. Securities and advisory services offered through LPL Financial, a registered investment advisor. Member FINRA/SIPC. The opinions voiced in this material are for general information only and not intended to provide specific advice or recommendations.
RESOURCES/LINKS
Capital One CreditWise Survey
https://www.cnbc.com/select/73-percent-of-americans-rank-finances-as-the-number-one-stress-in-life/
The Burden of Stress in America
http://www.npr.org/blogs/health/2014/07/07/327322187/stressed-out-americans-tell-us-about-stress-in-their-lives
Stay-At-Home-Mom article (2019)
https://www.salary.com/articles/mother-salary/
What Keeps You Up at Night checklist
http://www.clutewealthmanagement.com/resources/financial-toolkit/