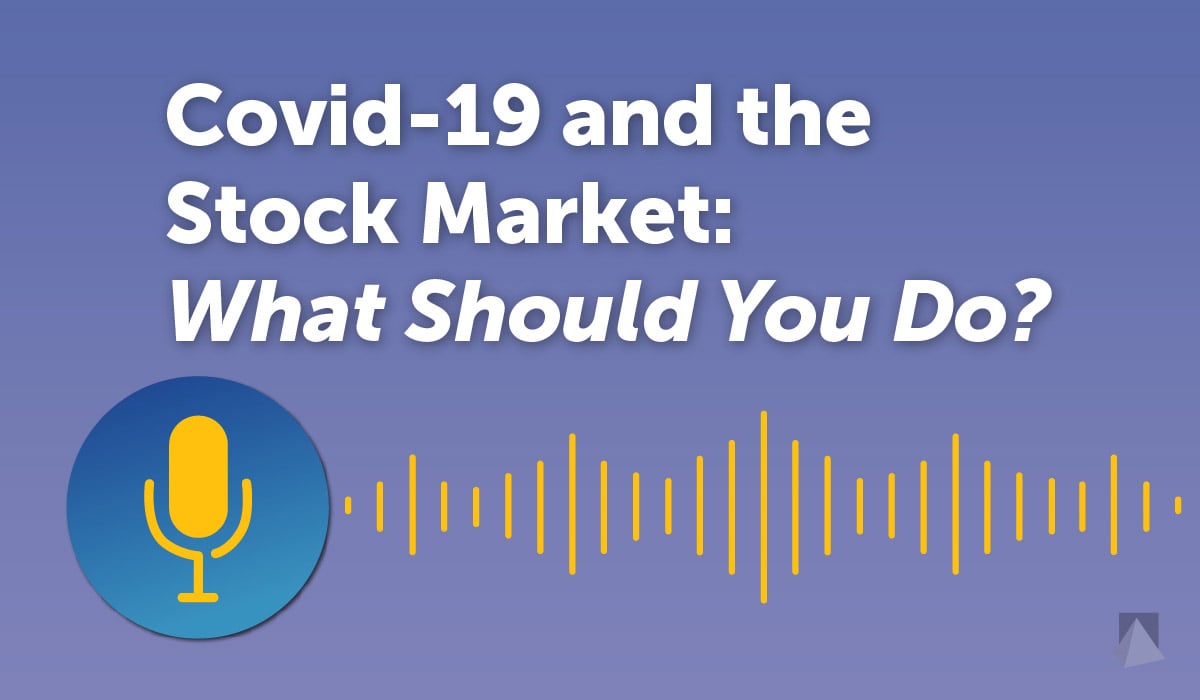 If you are like many investors, the wild swings in the markets since the coronavirus pandemic began have made you wonder what, if anything, you should be doing. While every investor's situation is different, CFP® professionals Christina Ubl and Adam Robert sat down for their inaugural audiocast to answer the most common questions asked about Covid-19, the stock market, and some ways you can help calm your worries.
Listen Now:
Read the Transcript
Christina Ubl: (00:00-00:56)
Hi everyone! Christina & Adam here attempting our first audiocast. While the pandemic has certainly caused all of us to change our lives in unimaginable ways, it also provides us with an opportunity to try new things. So all of us at Clute Wealth Management were brainstorming one day on how we can best stay in contact with you, our friends & family (outside of all the emails we send you), and came up with this audiocast idea. We'd love to hear your feedback – the good, bad & the ugly, we're okay – and also would love for you to share what is most helpful to you. Especially during these times when it's easy to feel alone & nervous about the unknown, please tell us how we can best help you. Do you need us to do a weekly phone call, a video conference, emails about ways to stay busy or connected, or even more emails about what is happening in the markets & the potential impact on your life savings? Whatever it is, we're listening.
Adam Robert: (00:57-02:06)
Hey, it's Adam! We've talked to many of you over the last couple of months, and found that most people have the same questions. But all of them boil down to wanting to know when this will be over & when we'll be back to "normal". Our answer is the same every time, regardless of who you speak to – we can't honestly say when this will happen as it truly depends on having widespread access to a vaccine, but we are here for you every step of the way. While we don't always share with you all the stuff we do behind the scenes, it's important for you to know that as always, we are monitoring the stock market, the bond market, the Federal Reserve (also known as "The Fed"), Congress, and new Federal, state & local laws – we're doing all this to determine if there will be any long-term impact on you & your accounts. Long-term being the operative word. We understand that it's difficult, if not impossible, to watch extreme short-term volatility in the markets & not wonder if "this is it?" or "is this when we lose it all?". Which happen to be the same questions asked during every bear market – and the answer remains the same: stay focused on the long-term, try to ignore the noise & know that we're working & researching for you always.
Christina Ubl: (02:07-02:36)
Even now, with social distancing rules being observed, please know that you can still find the two of us in the office every day & everyone else is still working safely remotely at home. We are all hands-on-deck and will continue to be here for whatever you need.
And while we have you as a captive audience (haha), we thought we could answer the top 5 common questions we're getting. We will keep them short & hopefully not too technical, but please call us if you'd like to know more about them or if you have any other things you'd like to discuss.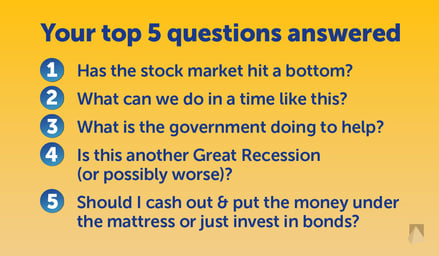 Adam Robert: (02:37-02:54)
Question #1. Has the stock market hit a bottom?
We believe it's currently forming a bottom, but nobody knows, without looking back, when the actual bottom was. Hopefully the worst was over in March, but that doesn't mean we won't feel some pain in the days, weeks & months ahead.
Christina Ubl: (02:55-03:20)
Next Question. What can we do in a time like this?
The best thing you can do, which is always the hardest, is to stay calm & ignore the noise. We keep joking that we're going to give everyone noise-cancelling headphones, but somehow we don't think that will work. Seriously though, we understand that taking some kind of action, any action, makes us feel more in control. Some things that we can do together are:
Adam Robert: (03:21-04:08)
Discuss converting your Traditional IRA accounts to Roth IRA's– this is an attractive investment strategy when accounts have lost significant value.
Another option is discussing investment opportunities for new money – if you have excess funds outside of your everyday spending, emergency savings & near-term large purchases, so things you expect to buy somewhat soon then you may want to think about investing & taking advantage of the "buy low" concept.
Update or start a Personal Record Organizer
Another option is to Review estate planning documents to determine if any changes are needed.
If you're over 70, we can look at making Qualified Charitable Distributions (QCD's) from your Traditional IRA account.
Christina Ubl: (04:09-04:35)
A few other things that you could do, using your annual gift tax exclusion ($15k per recipient in 2020) to gift assets that previously would have exceeded this amount.
Review your cash flow to determine how this pandemic is affecting your current finances
Begin or update your financial plan
We can even help you have a Financial Date Night with your significant other – just during the day though.
Adam Robert: (04:36-05:14)
Question #3. What is the government doing to help?
The Fed took almost immediate action by providing liquidity to the markets; and have assured us repeatedly that they will do whatever it takes to support the economy once demand starts to rebound. The Treasury Department & IRS extended the tax filing & payment deadline from April 15th to July 15th, which also gives more time to make 2019 IRA & Roth IRA contributions. Congress & the President passed the CARES Act to provide relief to individuals & small businesses. As you've probably heard, the Act included:
Christina Ubl: (05:15-06:06)
Relief checks of $1200 to individuals with income less than $75k or couples with income less than $150k joint income. These checks will also go to seniors receiving social security benefits if they meet the income limitations.
Many people already started receiving their checks by direct deposit if the IRS had your info on file from previous tax returns, however, if you don't file taxes electronically, you may not receive a check until August. There is a website you can go to update your information; please let us know if you need a link to it.
They also provided Retirement Assistance – Retirement Assistance included retirement plan withdrawals for COVID-19 affected individuals, access to plan loans, waiver of RMDs for 2020 & allowance for plan amendments.
Adam Robert: (06:07-07:53)
Also there is Small Business Assistance included in that – Paycheck protection program, which was actually exhausted a few weeks ago and just this week they included another $310 billion dollars for that program. There's also loan assistance, loan forgiveness, employee retention credit & tax benefits. And additional help for small businesses that is just getting approved as well.
Unemployment compensation assistance – which is expanded eligibility to include self-employed individuals & independent contractors; those benefits extended through the end of 2020 so that's a big increase for an extension; they also increased the maximum available by $600/week & allowed for individuals who quit (vs being fired/laid-off/furloughed) to be eligible.
And now for charitable deductions there's a new "above-the-line" charitable deduction for 2020 of $300, which is an increase up from $250, but you also have to claim the standard deduction to get this.
Question #4. Is this another Great Recession (or possibly worse)?
We don't believe so because this is more of a humanitarian crisis than an economic one. The economy was very healthy & corporate America was doing very well before the pandemic. The markets are forward-looking – meaning that they try to predict the future based on current events. They will rebound, but it will likely happen in a "two-steps forward, one-step back" manner. We believe the markets will normalize long before the overall economy – which could look very different on the other side of this – making it our "new normal". (insert air quotes here)
Christina Ubl: (07:54-08:37)
Our last question that we get is:
Should I cash out & put the money under the mattress or just invest in bonds?
While we can only give you advice on an individual basis, for most people it isn't a good financial decision to liquidate. Hopefully we'll communicate long before you feel this way, but if it hits unexpectedly, just call us to discuss it. You may still decide it's the right move for you, but we can work through the fears together & determine a plan that makes you feel comfortable again. As for investing in just bonds, typically we don't recommend putting "all your eggs in one basket". And both this crisis & the 2008 Financial Crisis, for those of you that were in it, showed us that bonds are subject to volatility too.
Adam Robert: (08:3-09:01)
Now hopefully all of that information hasn't put you to sleep (not that we would know since we aren't exactly face-to-face with you), and more importantly, answered some of your questions. As mentioned earlier, we would love to hear from you; whether to answer more questions for you, talk about what's keeping you up at night, provide information on things you can be doing to stay busy, or just someone to chat with.
Christina Ubl (09:02-09:24)
As we're getting ready to sign-off, we would like to thank all of you for your continued friendship & trust – especially during these unprecedented times. Please know that we are
here for you every day & will continue to be long after we are through this pandemic and we will get there. We hope both you and your families are safe & healthy, and we look forward to seeing you very soon!
Adam Robert: (09:25-09:44)
You can reach us by calling our toll free number 877-561-5707, or going to our website, clutewealthmanagement.com and click the contact us button. Thanks for listening, bye for now.