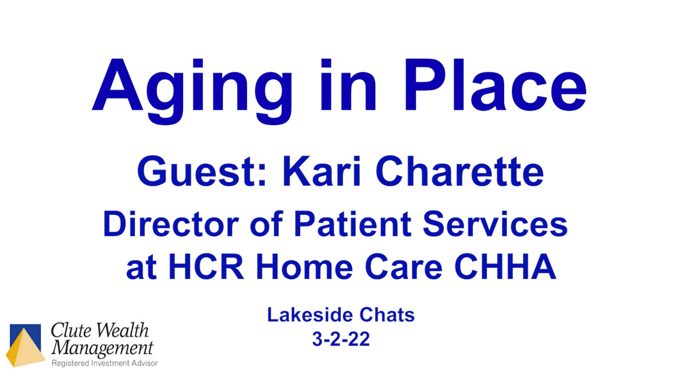 This month's Lakeside Chat topic was about "Aging in Place". When a senior or older adult chooses to live at home rather than move into an assisted living or skilled nursing facility, it's known as "aging in place". It's a decision that is gaining popularity and is a question that often comes up for folks as they plan their retirement.
Our guest expert was Kari Charette, who is the Director of Patient Services from HCR Home Care CHHA (Plattsburgh). HCR Home Care CHHA was recognized and certified by Centers for Medicare & Medicaid Services (CMS) as one of the modern home-health care agencies which are scientifically measured and assessed to have high-quality home-health care services for promoting health and improving the quality of life. Services being offered includes nursing, physical therapy, occupational therapy, speech pathology, medical social, home health aide.
Our Lakeside Chats were started in Spring 2020 to help us feel more connected. Think casual conversation about a wide range of topics. Imagine an online video version of a regular backyard (or front porch) get-together with friends and neighbors. For each Lakeside Chat, a different guest leads the conversation about their area of expertise, their passionate hobby.
You can see all of our past Lakeside Chat recordings in the "Videos" section of Money and You, or click here.