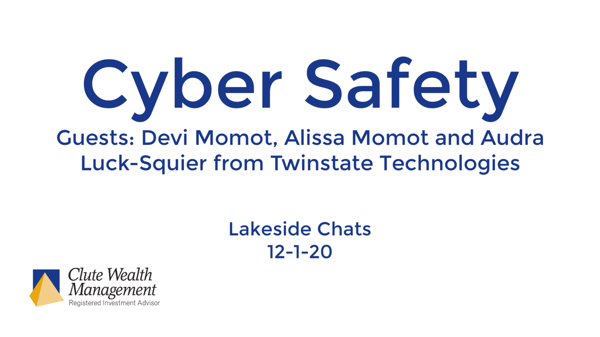 Many of us, regardless of age or technical skill, find our daily lives intertwined with technology more often than we'd like. With that, comes vulnerability to computer viruses, scams & potentially identity theft. As in most cases, knowledge is power: therefore, we invite you to gain insight & knowledge from local tech company Twinstate.
Twinstate is a Certified Women-Owned Business Enterprise headquartered in Morrisonville, NY that specializes in cybersecurity and IT services. CEO, Devi Momot, and her team will lead us in a chat (without using technical jargon) about simple steps we can take to help protect ourselves from online predators. Whether we're just shopping online, reviewing statements, video conferencing with friends & family or even working remotely, this chat will have something for everyone.
Devi steers the company alongside technology's constant evolution, guiding it to where it is today: an award-winning leader in unified communications and collaboration, cybersecurity and IT, and building and infrastructure. Devi is known for her entrepreneurial skills, remarkable determination, selflessness in her community, and being an avid promoter of education.
Alissa is responsible for helping to spread the word on how SMBs can better apply technology to accelerate and secure their businesses. She attended the University of Hartford and graduated in 2015 with a Health Science Degree and a Minor in Business Management. Alissa has attended many conferences, spoke at some, and is passionate about educating and securing our interconnected lives.
Audra is a Technical Solution Consultant who has a tremendous understanding of business needs having grown up around her family's successfully run business. Her ability and focus is to relate to clients and assist in guiding them through the effective use of technology to improve their business' bottom line. One of her primary focuses is to help organizations choose and apply technologies that help them increase productivity, effectiveness and security.
Our Lakeside Chats were started in Spring 2020 to help us feel more connected. Think casual conversation about a wide range of topics. Imagine an online video version of a regular backyard (or front porch) get-together with friends and neighbors. For each Lakeside Chat, a different guest leads the conversation about their area of expertise, their passionate hobby.