Research is the First Step in a Successful Long Term Relationship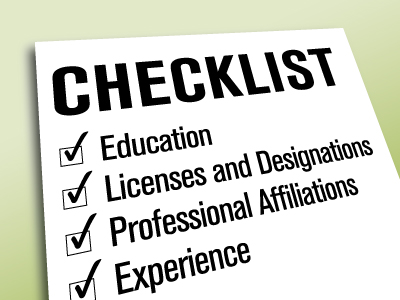 Many people select a financial advisor based on a simple recommendation from a friend or family member who "appears" to be financially successful. When your financial future may depend on the strength of another's guidance, isn't it wise to base the decision on more than just one subjective recommendation? There are many readily available, objective, and thorough tools that can help you choose a trustworthy and competent professional capable of helping to manage your money wisely. But finding the right advisor that addresses your unique and individual situation requires hands-on research. Chemistry (feeling comfortable with your advisor) is critical in your selection process, too. You deserve a planner you feel is approachable and will be available to you to answer your questions and concerns promptly and respectfully.
Start Online.
The good news is that there are several reputable online search and financial advisor reference tools, including these from nationally recognized professional organizations and regulating boards:
While harnessing the power of these online resources and databases, think about what you are looking for in your advisor. Do you need someone with a unique specialty? Or do you need someone who has a broad range of experience? You may also want to use these online tools to help you steer clear of advisors who may not be the right fit for you - some databases even include incidences of disciplinary actions or non-compliance.
Use a Checklist.
As you read additional articles on the subject, you will come to find that there are qualifications widely considered to collectively offer a "barometer" of the competence of a financial advisor:
Education – Degree(s) in finance, economics, and/or accounting are generally preferred
Registrations and Designations – Financial advisors that sell investment products or provide advice must hold the required securities registration as issued either by the FINRA, SEC or state-regulated authority. The securities registration an advisor holds may be a strong indication of area(s) of expertise. A registration in your home state and/or on the federal level, such as the Series 6 or Series 7 license, as well as designations as CERTIFIED FINANCIAL PLANNERTM CFP® or Chartered Financial Consultant (ChFC), which indicate education and training above and beyond minimum state requirements, are recommended.
Professional Associations –Financial Planning Association (FPA) is a nationally recognized organization, with helpful websites for you, as well as continuing education opportunities for financial planners themselves.
Experience - This is a more subjective quality to evaluate, but the longer the planner has been in business, the more knowledge one can acquire. Since financial planning is a knowledge based business, experience is important.
Prepare Yourself.
Understand your current financial situation. This will help to organize and quickly review your holdings, such as your stocks, savings, real estate, and insurance policies. The purpose of this step is not to necessarily share the information with your financial planner candidates, but to give you an idea of your current financial status – so you can closely match your needs to a specific professional experienced with your issues and situation. It will also help you prepare your questions as you interview potential advisors.
Meet and Greet.
Financial planning organizations recommend that you request a personal meeting with at least two potential advisors, and do not hesitate to ask to see his/her degrees, certifications, and licenses. Ask:
How is the planner compensated?

Is s/he a "Fee-only" planner? (One who charges a fee for services provided.)
A "Fee-based" planner charges fees for services and on a commission that may be earned on investments or insurance transactions.
"Fee-and/or-commission" planners may charge a fee, and compensation may come from commissions.
"Commission-only" planners derive income only from commissions on the products you purchase.

Is there a minimum income or net worth for his/her clients?
Is there a particular area of expertise offered by the advisor?
Does the planner have at least three long-term client references with similar goals?
Can the planner offer you some of his or her own personal investment strategies?
The Securities and Exchange Commission (SEC) website has a very concise informational page about interviewing prospective advisors, as well as advice on follow up questions to ask. (http://www.sec.gov/investor/pubs/invadvisers.htm)
You're Not Off the Hook.
Your goal in selecting a financial advisor is obviously to find someone you trust, who is qualified and experienced in your types of issues and varied market conditions, but also one who shares your values and is committed to moving you ahead. Ultimately it is up to you to stay involved and work with your advisor – your money, your future, and today's economic conditions will never be "an open and shut case." It is vital to keep watch on how effectively your financial plan and advisor are working to meet your goals.
Heidi Clute, CFP® of Clute Wealth Management in South Burlington, VT and Plattsburgh, NY, an independent firm and registered investment advisor that provides strategic financial and investment planning for individuals and small businesses in the Champlain Valley region of New York and Vermont. The opinions voiced in this material are for general information only and not intended to provide specific advice or recommendations.
Securities offered through LPL Financial, Member FINRA/SIPC. Clute Wealth Management and LPL are separate entities.